Rock climbing Krabi Thailand
This week I did a half day Rockclimbing course on Railey beach in Krabi Thailand. I booked an online ticket at Real Rocks Climbing school. (1000 THB like 25 euro) Real Rocks Climbing school offers a lot. From private guided rock climbing to family rock climbing courses in Krabi.

Real Rocks Climbing school Krabi arranged a pickup (8.00) from my hotel in Ao Nang in the morning and the taxi brought us to the boat. From the pier we made a smooth ride to Raileybeach were we got our gear.
Photo's rock climbing Krabi
After we go introduced to the climbing instructor we walked to the rocks! They have a wall full of climbing paths for beginners till experts. We were in a group of beginners so the instructor gave us some good beginner climbing lessons. These instructions are the basic of climbing and good to know.
Rock climbing Krabi for beginners!
The first path up was good to do. The climbing instructor let us go and try it ourselves. When you were up and didn't came further the climbing instructor told you how you could go further. I like that way to challenge myself. With help of the instructor I could make it all the way up to the four paths we did that morning. But I can say Rock Climbing is intens. We got back to the shop and we had some time to eat, see railey beach before the took the boat back to the pier.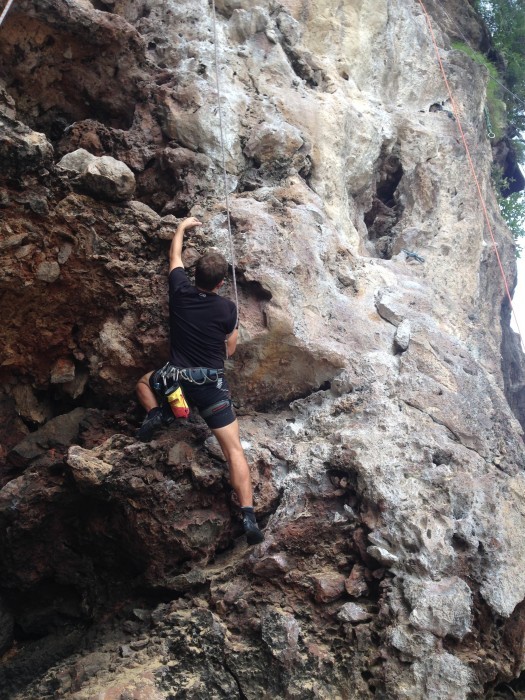 Rock climbing Krabi for experts
Is saw also a couple of other climbers go by them selves. And groups who arranged multiple day courses rock climbing in Krabi. If you want to go crazy or just want more you can even go for a private guided tour.
Video Rock climbing Krabi
Location Rock climbing Krabi